31 Mar

Stu B Que | Tulsa OK BBQ
Stu B Que | Tulsa OK BBQ | (918)-724-7886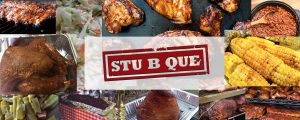 Have you been craving some good BBQ? Well good news is, Stu B Que provides the best Tulsa OK BBQ has to offer. Stu B Que specializes in catering for various occasions. If you have an upcoming wedding reception, holiday party, corporate event or office lunch, stew be cue will give you the best of Tulsa OK BBQ has to offer. In addition to their catering staff, Stu B Que also has a Tulsa OK BBQ food truck that is a great way to cater large events or community functions held outside. Stu B Que has had the pleasure of catering events all over the Broken Arrow and Tulsa area for over 10 years. If you have any questions on the catering options given by this Tulsa OK BBQ company, contact Stu B Que today!
Stu B Que Tulsa OK BBQ Catering
Planning your catering event involves creating guest lists and 100 other responsibilities. These duties will keep you occupied when organizing any event, so Stu B Que's goal is to help out as much as they can. Stu B Que's has a very knowledgeable catering staff that will work with you, diligently, and creating your catering menu. Your menu items will be cooked in house and then delivered to your catering event. We arrange the buffet, and delivered focused service to quick cleanup. When you have the vision of what your event should be, it is our goal to help bring that vision to life. With great food and on-time service, we take care of all details that involve your catering to match the vision that you had. Allow us to assist you in your catering event, call Stu B Que today, the best Tulsa OK BBQ catering service.
Stu B Que's Tulsa OK BBQ Budget Catering
Here at Stu B Que, there is no budget too big or too small for our Tulsa OK BBQ catering service. We understand that a budget for an event is an extremely important part of planning and hosting that event. So, if your budget is on the lower end, we will work with you on finding the best options for catering your event. If your budget is on the larger side, this will help us provide you with the largest amount of options available for your Tulsa OK BBQ catering event.
Stu B Que the Tulsa OK BBQ Catering Expert 
If you need great service, delicious food and on time deliver for your next catering event call Stu B Que Catering.  With a variety of menus for any occasion, we'll find the perfect fit four your Broken Arrow catering event. We take the stress out of catering when we focus on the catering details you can enjoy your event.
Tulsa OK BBQ Catering Events:
Corporate lunches
Family reunions and picnics
Tailgate parties
Wedding rehearsal dinners and receptions
Church and club luncheons
Weekend corporate getaways
Holiday events
If you have any questions regarding Stu B Que's Tulsa OK BBQ catering service, contact us today! 
(918) 724-7886
4920 E Kenosha St Broken Arrow, OK, 74014