24 Oct

Who Is Tulsa's Best Lunch Caterer?
Stu-B-Que Is Tulsa's Best Lunch Caterer
Do you love hosting events, gathering everyone together to celebrate a holiday, coming together as a community or even just to meet new people? We completely understand that! We too love hosting events. That is what helps Stu B Que become such a great lunch catering company. But the one thing we have learned during all of our events is that, while what occurs at the event is important, the food being served is nearly just as important. Fortunately for you, you have found Tulsa's #1 Lunch Caterer.
Stu B Que is Tulsa's #1 Lunch Caterer. We offer a large variety of catering menus, to meet everyone's tastes. In addition, we also cater for an extremely diverse range of events. If you are hosting any type of catering event, remember Stu B Que is Tulsa's #1 Lunch Caterer.
Typically, when you ask people what their favorite meal of the day is, the answers are either breakfast or dinner. People love breakfast because it has options for those who love savory or for those with a sweet tooth. Others love dinner because of the more typical large serving sizes. But the best part about lunch is that it can be either a late breakfast or early dinner! And if you like to live life on the edge, it can be something completely different. We here at Stu B Que understand this, and because of that, we have become Tulsa's #1 Lunch Caterer.
Tulsa's Best Lunch Caterer Menu
When you choose Stu B Que, Tulsa's Best Lunch Caterer, you are choosing a lunch catering company that has so much to offer. And, they are willing to help build your unique menu to your budget specifications. So, no matter the size of your budget, you will have so many food options to choose from. Do not believe us? Take a look at our menus. You will be blown away by the options you have.
Lunch Catering Barbecue Menu
Our fan-favorite menu options have always been our delicious barbecue. But what is included in this menu? Well, the Stu B Que Barbecue Combo comes with Stu B Que combo meats and three regular sides. And our barbecue combo meats are as follows: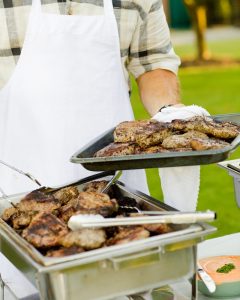 Bologna
Bone-in-Chicken
Chicken Breast
Ham
Hot Links
Pork Loin
Pork Tenderloin
Pulled Pork
Sausage
and Turkey
As for our more premium meats, we offer the following:
Beef Brisket
Loin Back Ribs (Babies)
and Spare Ribs
Lunch Catering Sides
And for the part of the meal that really rounds it out, and makes it memorable, we have the sides. As mentioned above, the Barbecue Combo comes with three regular sides. But what sides will you choose? Your options are as follows:
Cheesy Taters
Coleslaw
Corn on the Cob
Green Beans
Mashed Potatoes and Gravy
Mixed Vegetables
Pasta Salad
Potato Salad
and Stu B Que Beans
But that is not all, Stu B Que also offers other sides, but they come with a slight price increase. Below are the extra sides, with their additional costs:
Baked Potato (Plus .75)
Caesar Salad (Plus .50)
Fried Okra (Plus .25)
Loaded Taters (Plus .75)
Side Salad (Plus .50)
and Wild Rice (Plus .25)
But once again, Stu B Que Tulsa's #1 Lunch Caterer. Meaning they may have some secret sides that you can unlock by calling them, as asking what specials they are serving, or see if they can make something special, just for you if you call us at (918) 724-7886.
Custom Lunch Catering Menus
Now, even though our barbecue is our fan-favorite, we understand that not everyone wants a BBQ lunch. So we have other catering options for you, and they are just as delicious. Items such as the Italian, Seafood, Mexican and Breakfast options are all available. For the full list, keep reading:
Chili Combos
Fajitas Combos
Holiday Combos
Italian Combos
Pot Roast Combos
Seafood Combos
Steak Combos
and Full Breakfast Combos

Bacon
Biscuits and Gravy
Burritos
Cheesy Taters
Eggs
French Toast
Pancakes
Sausage
and more, if you call us at (918) 724-7886
Lunch Catering Dessert Menu
And once you are all filled up with our delicious entrees, it is time to fill that second stomach. And to do so, Stu B Que offers some delicious cobbler options for you. Those cobbler options are as follows:
Apple
Blackberry
Cherry
Peach
and Strawberry
In addition, all catering includes bread or buns, BBQ sauce, Pickles, Onions, Plates, napkins, Plastic-ware and Serving utensils.
Tulsa's #1 Lunch Caterer Events
So, with the important catering part of things explained, the food, what kind of events do we service, you may be asking. And the answer would be, we would love to cater to all of your events! In the past, we have catered to an array of event types. From personal, to business, and even religious, we have done it all. Our past catering event types are as follows:
Church Dinners
Church Luncheons
Club Luncheons
Corporate Lunches
Family Picnics
Family Reunions
Holiday Events
Tailgate Parties
Wedding Reception Dinners
Wedding Rehearsal Dinners
and Weekend Corporate Getaways
When you book Stu B Que as your Lunch Catering service, you can anticipate the utmost levels of tailored service. After all, we are Tulsa's Best Lunch Caterer! We understand how stressful an event can be. From all the steps you have to do, such as scheduling, planning the guest lists, and many other key details. That is why, when you book Stu B Que as your lunch caterer, our experienced catering staff will work diligently to prepare your specific menu, deliver it to your event location, setting up the buffet and bringing observant service to discrete breakdown and swift cleanup.
Tulsa's #1 Lunch Caterer Service Area
Stu B Que can only by Tulsa's #1 Lunch Caterer by serving the entire Tulsa Metro, with all their delicious and delivered food needs. Our home location is in Broken Arrow, Oklahoma, but for more than ten years, Stu B Que has had the pleasure of going to events all across the Tulsa Metro.
If you do not believe we are Tulsa's #1 Lunch Caterer, give us a try. Call us for any event you are having. It could be something as simple as hosting a congratulatory party to your kid's sports team, a graduation or even the more complex wedding rehearsal. After ten plus years of service in the Tulsa Metro, there are very few types of events that we have not had the privilege of catering. Perhaps you could change that!
Contact Tulsa's Best Lunch Caterer
We hope that after reading all of this information, you have come to realize why we have become Tulsa's #1 Lunch Caterer. We understand that none of our clients and their events will be the same, but that is what we love about the catering business. Getting to meet unique people and cook and serve their unique menus. That is why we have designed our business around working with you, your budget, and the event type you are hosting. If you would like to discuss your plans for your next event, and how we can help with the catering, please get ahold of us today!
You can always head over to our website, wherein the top menu, you will find our contact page. From there, you can send us an email with all the information and questions you have. We will get back to you as soon as we can. However, if you are not an email person, there are other options for you! You can always call us on the phone, our number is (918) 724-7886.
Stu B Que is Tulsa's #1 Lunch Caterer
As you have read, Stu B Que is Tulsa's #1 Lunch Caterer. We got that title by working hard, providing our customers with a tailored service that meets their every need. Whether that be specific menus, specific dietary requests, certain types of events, or an all-around setup and cleanup process, Stu B Que is here to impress.
No matter what kind of lunch you are looking to have, a brunch, dinner or something completely unique. In fact, our customers have left praising reviews for all of our food types. But our fans really love our barbecue combos. But if that is not for you, or your event, we offer a wide array of combo options for you to choose. And the same goes for our sides.
In many cases, we actually have other items, not listed on our menu that you can order. All it takes is a simple call, o find out the specials. Doing this helps us specialize our catering service to meet your exact event needs and wants. In fact, you may even be asking for something that we have never offered before, but that does not mean that it will continue to be unoffered. And perhaps you could even add something to our menu!
And while you are adding something to our menu, maybe you will be able to grow our list of events that we have serviced. Although, that may be hard, as we have helped many people in the Tulsa Metro with their catering needs. From business events, personal events, and even religious gatherings, we have done, almost, them all.
So, if you have any needs, whether it is big or small, large budgets or small budgets, barbecue or any of our other amazing combos, Stu B Que, Tulsa's #1 Lunch Caterer, is here to cook up, serve up and clean up your delicious event catering menu. Contact Tulsa's Best Lunch Caterer today to get started on planning your next great event.